About Amanohashidate
Amanohashidate Overview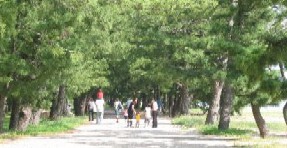 Inside Amanohashidate Park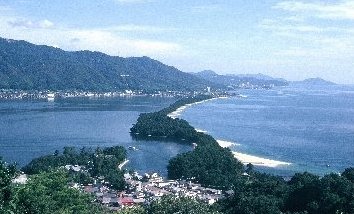 Amanohashidate (Hiryukan)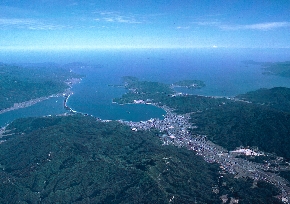 Amanohashidate Area (Aerial Photo)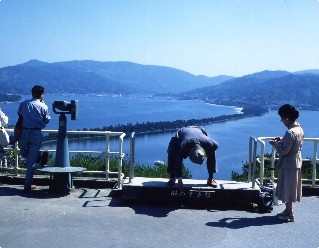 Upside Down Viewing (Kasamatsu Park)
Amanohashidate is a scenic point In Miyazu, Kyoto that attracts many visitors from around the country every year.
Amanohashidate is composed of Daitenkyo, Shotenkyo, Daini Shotenkyo, and Kasamatsu. The sandbank measures a total of 3.2 km (Daitenkyo and Shotenkyo areas), with beaches ranging from 20 to 170 meters wide, and it has beautiful scenery includes the rows of roughly 5,000 large and small black pine trees that grow there.
In addition to the beauty of the white sand and green pines, the many viewing points for taking in the scenic vista are another attraction, and you can view Amanohashidate from many different angles, including the "Four Great Views of Amanohashidate."
The Four Great Views of Amanohashidate
Hiryukan: from Amanohashidate Viewland
Naname Ichimonji: from Kasamatsu Park
Ichijikan: from Ouchitoge in Yosano
Sesshukan: from the Amanohashidate Sesshukan Vantage Point and Rest Area on the Kunda Peninsula
Origins of Amanohashidate
According to the "Tango no kuni fudoki", Amanohashidate is said to be a ladder created and placed by Izanagi no Mikoto to connect the heavens with the lower world, but while she was sleeping, it fell onto the sea and became a long, narrow spit of land.
It is said that when Amanohashidate is viewed upside down, it looks like a bridge spanning the heavens, and the practice of "matanozoki" (viewing it upside down through the legs) from Kasamatsu Park is also famous.
The Three Views of Japan, etc.
Three Views of Japan
Amanohashidate is a special place of scenic beauty (a location designated by the Law for the Protection of Cultural Properties as particularly important for its beautiful scenery) that is known as one of the Three Views of Japan, along with Matsushima (Miyagi Prefecture) and Miyajima (Hiroshima Prefecture).
The Three Views of Japan are said to have originated in the early Edo period when Shunsai Hayashi wrote, "Together, the three points of Amanohashidate in Tango, Matsushima in Mutsu, and Itsukushima in Aki form a magnificent scenic view," in the "Nihonkoku Jisekiko".
* July 21st, Shunsai Hayashi's birthday, is designated as Three Views of Japan Day. (Three Views of Japan Tourism Information Exchange Committee)
Top 100 Lists
100 Famous Pines of Japan (1983)
100 Famous Water Sites of Japan (1985)
100 Best Trails of Japan (1986)
100 Best Sand Beaches with Pine Trees of Japan (1987)
100 Best Beaches of Japan (1996)
100 Best Beautiful Historic Natural Sites of Japan (2007)
100 Best Historic Parks of Japan (2007)
100 Best Natural Features of Japan (2007)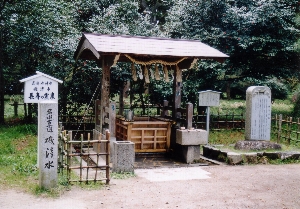 Other
500 Beautiful Walking Trails of Japan (2004)
Designated Tango Amanohashidate Oeyama National Park (2007)
Poem inscription by Hiroshi and Akiko Yosano erected (2006/ The Committee to Preserve Amanohashidate)
Amanohashidate Proclamation at HAND in HAND Amanohashidate (2008/ The Committee to Make Amanohashidate a World Heritage Site -in japanese-)
Amanohashidate Charter enacted (2009/ The Committee to Preserve Amanohashidate)
World Heritage Site Aspirations for Amanohashidate
Efforts toward World Heritage Site Designation
On September 19th, 2007, Miyazu, Ine, and Yosano proposed "Amanohashidate: The Origin of Japan's Cultural Scenery" as a World Heritage candidate to the Agency for Cultural Affairs. Unfortunately, in the results of the judging released by the Agency for Cultural Affairs on September 26, 2008, it was passed over as a candidate for World Heritage Site status, although it was highly rated. The efforts to resolve the challenges set before them will continue making progress going forward.
Recognized Value
It is one of the most prominent of Japan's characteristic marine views, and an asset which speaks to the formative process of a Japanese aesthetic sensibility which aspires to look upon scenic beauty and reflect it in personal impressions and through art.
Japan's emblematic "white sand beaches with green pines", having influenced a diverse range of artistic works and gardens, are valued highly as important scenes of natural beauty in understanding Japanese cultural traits and spirituality.
Challenges
Conclusively proving the prospect that Amanohashidate possesses remarkable universal value as a rare or archetypal example of an outstanding place of scenic beauty for "white sand beaches with green pine trees" from a world history and international perspective. (Comparative studies with similar assets in Japan and abroad (particularly China and South Korea))
Sufficient explanation of its position as the origin of the unique tradition and spirituality among Japanese people of likening the sandbank covered with dense pines to a bridge to the heavens.
Appropriate conservation of the associated elements in the area which compose Amanohashidate.
Etc.
*Reference: Efforts to Make Amanohashidate a World Heritage Site (Miyazu City Website -in japanese-)
*Reference: Proposal for inclusion on the tentative list of World Heritage Site candidates (-in Japanese-)
"Amanohashidate: The Origin of Japan's Cultural Scenery" (Miyazu City Website -in japanese-)

Cultural Aspects of Amanohashidate
Amanohashidate possesses not only the beauty of the picturesque scenery of white sand beaches and pine trees, but also historic and cultural value.
The appeal of Amanohashidate also includes the many temples and shrines in the surrounding area, such as Chion-ji Temple, Kono-jinja Shrine, and Nariai-ji Temple, and the wide range of poems, paintings, and other works of art created by the many writers and artists who loved it.
Example Works
Sesshu's "View of Amanohashidate", a national treasure
Koshikibu no Naishi's poem in the Hyakunin Isshu "Oeyama ikunonomichi no tookereba mada fumi mo mizu ama no hashidate"
Zeami's famous monogurui Noh play "Tango monogurui", set at Chion-ji Temple
Etc.
About the Conservation of Amanohashidate
 Amid the interaction between humans and nature, the beauty of Amanohashidate's white sand beaches and pines has endured. It is important for us to continue preserving Amanohashidate for future generations.
Conservation of the Pines
Pine trees are capable of growing even on arid, infertile land. Conversely, as the soil becomes more enriched, there is a transition to broadleaf trees. Currently on Amanohashidate, humus has created an over-abundance of nutrients, producing an environment in which it easy for plants other than pine trees to grow.
In the past, the pine boughs and needles were used as fuel, and this maintained a favorable environment for the pine trees. Now that we have transitioned to fossil fuels, the transition to broadleaf forestation has progressed. Fallen trees caused by pine tree death and natural disasters have also become a problem.
Currently, we are undertaking a variety of initiatives to preserve the pine groves. The "Clean Hashidate: One Person, One Tsubo Project" and "Amanohashidate Preservation Team" are examples of these initiatives.
*Reference: The Committee for Considering Utilization of the Amanohashidate Park Pines (Kyoto Prefecture Website -in Japanese-)
*Reference:Amanohashidate Park Inheritance Preparation Committee (Kyoto Prefecture Tango Area Development Bureau Website -in Japanese-)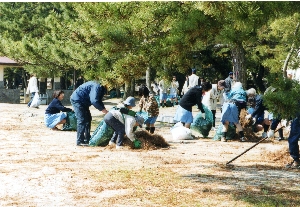 Status of the Clean Hashidate: One Person, One Tsubo Project
Cleaning activities such as the collection of pine needles and other waste are conducted twice annually in April and December.
The Committee to Preserve Amanohashidate, as well as many companies, organizations, and area residents participate in these activities.
*Other groups are also active, such as the Amanohashidate Preservation Team, which calls for cleaning activities by volunteers.
Managing the Sandbank
Amanohashidate's shoreline (beach) has been eroded over the years, and has steadily shrunk. As a beach conservation effort, the sand bypassing method was used for the first time in Japan to artificially transport the accumulated sand on the upper side to the beach on the lower side as a means of shoreline maintenance. (From 1986)
Trials to restore the original appearance of Amanohashidate are also currently being conducted.
*Reference: Sand Bypass Project (Kyoto Prefecture Website -in Japanese-)
*Reference: Amanohashidate Park Maintenance (Kyoto Prefecture Tango Area Development Bureau Website -in Japanese-)
Conservation of Scenery in the Amanohashidate Area
The scenery of Amanohashidate is composed of a combination of the surrounding mountains, rivers, sea, and the people who live there.
"Scenic community development" initiatives are currently ongoing to conserve, cultivate, and create appropriate scenery in the Amanohashidate area, and to pass it on to the next generation.
*Reference: Amanohashidate Area Scenery Plan (Kyoto Prefecture Website -in Japanese-)
Environmental Rehabilitation of the Aso Sea
As the Aso Sea, the inland sea in which Amanohashidate is located, is an enclosed body of water with almost no exchange of sea water with the open ocean, there has been an influx and accumulation of pollutants, chemical sludge is deposited on the seafloor, the water is anoxic or poorly oxygenated, and excessive nutrients cause algal blooms at the surface which produce hydrogen sulfide, causing an unpleasant odor.
In order to radically improve the environment of the Aso Sea, action is required to prevent the release of pollutants into the Aso Sea and the rivers which flow into it throughout the area.
*Reference: Aso Sea Environmental Improvement Cooperation Council (Kyoto Prefecture Tango Area Development Bureau Website - in Japanese-)