News
Posted here are notices and announcements related to our association's activities and to the Amanohashidate area. (Latest posts are displayed at the top of this page.)
If you have any relevant information to share, please contact our office.
Amanohashidate World Heritage Symposium to be held in 2013.
The Amanohashidate World Heritage Symposium will be held to stimulate our activities for Amanohashidate to become a World Heritage Site. We will invite speakers who were involved in developing the local area of Mt. Fuji in preparation for its designation as a World Cultural Heritage Site in 2013. We hope you can join us.
Date
March 2, 2014 (Sun.), 1:30 PM to 4:00 PM
Location
Miyazu City Museum of History, Cultural Hall
Program:
Lecture: "Local-Area Development Activities for Mt. Fuji's World Heritage Designation"
Speaker: Professor Keiko Higashi, School of Marine Science and Technology, Tokai University; and member of the Shizuoka Prefecture Mt. Fuji World Cultural Heritage Scientific Committee
Panel Discussion: "Mount Fuji and Amanohashidate—Local-Area Development by the Local Community"
Panelists: Mayumi Endo, NPO Miho no Matsubara Hagoromo Village Secretary General
Masafumi Kizaki, Fuchu Area Improvement Council
Discussion Coordinator: Kazuhiro Uesugi, Associate Professor at Kyoto Prefectural University Faculty of Letters, and member of Amanohashidate World Heritage Site Feasibility Study Committee
Sign-up:
Contact the office of the Committee to Make Amanohashidate a World Heritage Site by phone, e-mail, or fax. Up to 200 seats are available.
Symposium flyer front Symposium flyer back (application form)
Telephone: 0772-45-1601, Fax: 0772-25-1691
e-mail: hashidate@city.miyazu.kyoto.jp
Plastic file folder with Amanohashidate and local mascots now available!
To spread public awareness of our activities to have Amanohashidate become a World Heritage Site, we make PR goods.
The latest is a plastic file folder called "Amanohashidate x Yuru-kyara Clear File." It's really cute with the images of three local mascots: Nami-chan from Miyazu, Mamekkomai-chan from Yosano, and Funa-yan from Ine.
We will give away these file folders for free to our association members and to people who plan to do PR.
Contact our office to request the file folders.
*Due to a limited quantity, apologies for not having enough file folders for all association members.
Contact:
Phone: 0772-45-1601, The Committee to Make Amanohashidate a World Heritage Site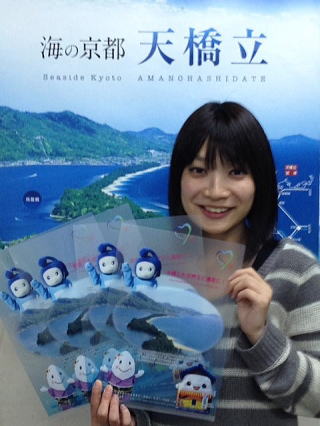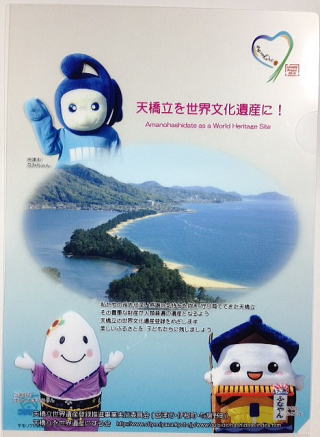 Kyoto Travel Photo Exhibition (sponsored by Bank of Kyoto)
The "Four Seasons of Amanohashidate" photo exhibition is traveling to about 100 branches of the Bank of Kyoto from April 2013 to March 2014.
The exhibition will be in each bank's lobby for about two months. Hope you can see it.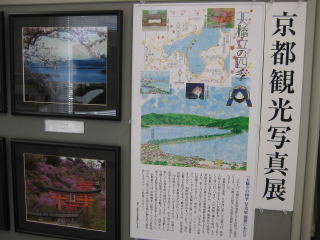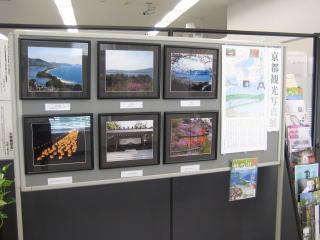 Contact
Phone: 0772-45-1601, The Committee to Make Amanohashidate a World Heritage Site
Art Contest: "Like! Amanohashidate Matsunamiki Museum"
Enter your paintings, drawings, or photos of Amanohashidate. Winners will receive great prizes!
Express your thoughts and feelings about Amanohashidate through your art. Submitted works will be posted on our Facebook page: "
Like! Amanohashidate Matsunamiki Museum
"
Submission Period:
April 26th–August 30th, 2013
Categories:
1. Paintings (including prints made with woodblocks, etc.)
2. Photographs
3. Juvenile Works (elementary school and younger children)
Prizes
1 Grand Prix winner: Tango Koshihikari rice 10 kg, Tango dried fish, Tango pickled vegetables, two tickets to stay at Monju-so (Japanese-style inn)
3 Grand Prize winners (1 winner in each category): Tango Koshihikari rice and other gifts
15 Special Jury Prize winners (5 winners in each category): Tango Koshihikari rice and other gifts
Who can enter:
Open to anyone. Any number of works may be submitted. Only one work per person can win a prize in a category.
How to enter:
Send your work via the Internet or postal mail.
Click here (Miyazu Junior Chamber International website -in japanese-).
Sketching session to be held. Let's draw together.
When:
June 9th, 2013 (Sun.), 9:00 a.m.–12:00 p.m.
Where:
Kasamatsu Park
Contact
Miyazu Junior Chamber International, phone 0772-22-5203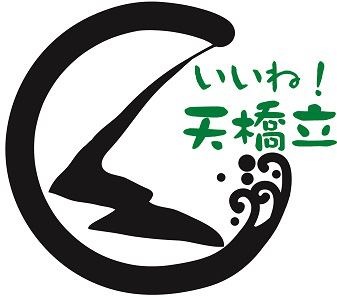 Amanohashidate PR buttons! "Aim for World Heritage!"
We made PR buttons to help promote the designation of Amanohashidate as a World Heritage Site. We would be happy if you wear this button.
Corporate members and individual members belonging to organizations can contact us to request buttons. We will send you the requested number of buttons.
*Due to a limited quantity, apologies for not having enough buttons to give to all association members.
Contact
Phone: 0772-45-1601, The Committee to Make Amanohashidate a World Heritage Site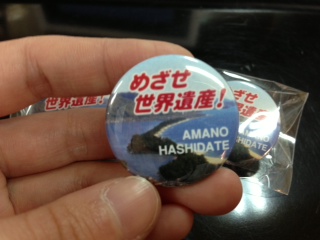 3 cm PR button.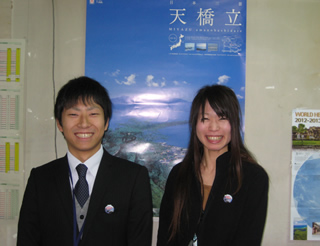 The button matches your suit well.
Giant mural of "Amanohashidate-zu" on parking structure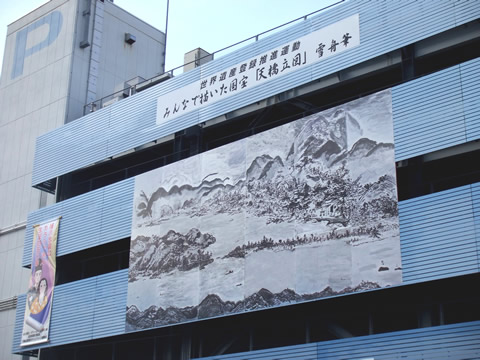 A giant reproduction of Buddhist priest and painter Sesshu's famous painting (National Treasure) called "Amanohashidate-zu" was made by about 150 local residents. On October 21, 2012, the reproduction was mounted on the east side of the Parking Hamamachi parking structure in Miyazu.
The mural is 5.2 meters high and 9.76 meters wide. It is a work of light and shadows.
If you look closely, you can see things not in Sesshu's original 16th-century painting. They express the sentiments of the local residents. When in Miyazu, take a look at the mural.
Click here to see how they created it. (in Japanese)
Closing Event of the Celebrations of the 40th Anniversary of the World Heritage Convention
The Kyoto Vision
 At the closing event of this convention held during November 6th–8th, 2012, at the Kyoto International Conference Hall, the Kyoto Vision was announced.
The Kyoto Vision, in English, stressed the importance of the local community's role in preserving World Heritage Sites and encouraged the local population's participation.
The Kyoto Vision's "Call for Action" included the following:
"To realize this Vision, the participants wish to launch an appeal to the international community with a view to enhancing cooperation and coordination among all stakeholders and ensuring effective involvement of local communities, indigenous peoples, experts and youth in conservation from the preparatory phase of the World Heritage nomination process, so that heritage conservation contributes to the sustainable development of the whole society;"
Our association also strives to work together with everyone to preserve and protect Amanohashidate as we strive for World Heritage status.
*Click here for the Kyoto Vision in English. (Ministry of Foreign Affairs website)
Miyazu-Amanohashidate moped license plates!
Miyazu will start issuing localized moped license plates on December 5, 2012.
If you live in Miyazu and have a moped (motor scooter), we encourage you to replace your license plates with the Miyazu-Amanohashidate plates to help promote Amanohashidate. The license plate includes the words "Nihon Sankei Amanohashidate Miyazu" and color artwork depicting Amanohashidate.
Replacing your moped's license plates is free the first time.
Contact
Phone: 0772-45-1612, Municipal Tax Desk, Miyazu Financial Section
Amanohashidate World Heritage DVD and brochure published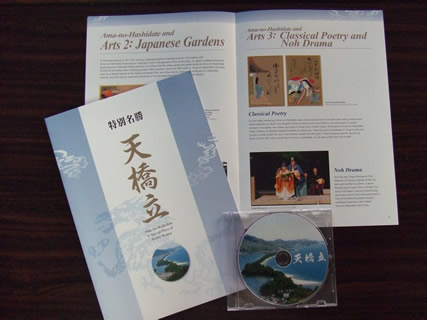 We have published the Amanohashidate World Heritage DVD and brochure (revised).
(Produced by Kyoto Prefecture.)
The DVD is 15 minutes long and available in Japanese and English.
The brochure is available in Japanese, English, Chinese, and French.
The DVD will be shown at events and gatherings and the brochure will also be passed out at events. Association members may borrow the DVD. Contact our office.
Contact
Phone: 0772-45-1601, The Committee to Make Amanohashidate a World Heritage Site
Using the Amanohashidate World Heritage DVD
The Amanohashidate World Heritage Designation Association is producing a DVD about Amanohashidate's application to become a World Heritage Site.
Amanohashidate
Japan's Original Cultural Landscape
Approx. 15 minutes
Discusses Amanohashidate's application on the World Heritage Site Tentative List. It also focuses on Amanohashidate's cultural and artistic impact and value.
Amanohashidate, Connecting People
Approx. 37 minutes
Shows Amanohashidate in the four seasons and matsuri festivals held by local residents.
*Both DVDs are being produced by the NPO Kyoto Culture Filming and Recording Association (Kyoto no Bunka wo Eizo de Kiroku suru Kai).
The DVDs are available for free rental to organizations planning to show it at an event, meeting, etc. The DVDs are to be returned at your own expense (for postage, etc.).
The DVDs can also be borrowed by individual members of our association.
To request the DVDs, contact our office below.